The Most Popular Cannabis Strains in Las Vegas
Here at Jenny's, our goal is to provide customers with the best quality and most popular medical marijuana strains found anywhere on the Vegas market, in addition to helping our customers better understand our Cannabis products.
With this in mind, take a look at the ten most popular cannabis strains in Las Vegas. Each strain described by their effects and flavor.
Most Popular Cannabis Strains in Las Vegas
Girl Scout Cookies
Seems like Girl Scout Cookies is quickly becoming a US favorite due to its extremely intense cerebral effect and sweet flavor.  
The high is known to last for several hours, with users frequently experiencing euphoria and lethargy throughout. Meanwhile, the body is numbed from head to toe; alleviating feelings of pain and nausea.
Shop Online for Girl Scout Cookies in Las Vegas.
OG Kush
This classic West Coast hybrid has been on the marijuana scene since the mid-nineties.  Consequently forming the genetic backbone of so much that followed in Californian cannabis cultivation.
Praised for its ability to alleviate stress and reduce feelings of pain and depression, OG Kush has gained legendary status in its own right. Most noteworthy is the taste, sour lemon with a piney, earthy undertone and an almost woody aftertaste.  The distinct flavor has made it one of the most recognizable and most popular cannabis strains in Las Vegas since its arrival.
Gorilla Glue #4
Despite being a newcomer to the cannabis scene, Gorilla Glue #4 has quickly proven to be a strain worth paying attention to. It took podium finishes in the Amsterdam Cup, the Colorado Cannabis Cup and the 2015 World Cannabis Cup.  In addition to winning first place at the 2014 Cannabis Cup Los Angeles, and the High Times Jamaican World Cup.
This smooth hybrid delivers a crystal-clear cerebral high. Its potency makes it the perfect strain for sufferers of insomnia, stress and pain. Frosty buds, coated in a thick terpene jacket. A must-try addition to the most popular cannabis strains in Las Vegas.  
Shop Online for Gorilla Glue #4 in Las Vegas.
Blue Dream
Blue Dream's balances full-body relaxation with a subtle cerebral workout.  Probably the key behind this hybrid's esteemed status.
This strain provides a soothing experience for almost every user. While the journey may be smooth, Blue Dream soon delivers the mind to a psychoactive wonderland.  This popular strain is crackling with creativity and awash with motivation. The ideal example of a cannabis strain designed to ensure a pleasurable smoking experience, with none of the slothful side effects.
Sour Diesel
Sour Diesel remains one of the most popular cannabis strains in Las Vegas. A popular Las Vegas strain because of a unique combination of flavor and effect.  This strain guarantees customers a clean yet empowering cerebral high that also works its way through the entire body.
With THC levels ranging from 19-25%, Sour Diesel is perfect for treating stress, depression, pain and insomnia.
Jack Herer
Named after legendary cannabis activist and author, Jack Herer is a Sativa strain straight out of the California cannabis scene. With a potent THC level of 18-23%, it packs a punch, too. Just not one will knock you out. Its elevating effect will lift you up and keep you there; with users consistently describing Jack Herer's effect as blissful, clear-headed and creative.
This strain crosses Northern Lights, Haze and most relevantly Shiva Skunk, especially relevant to those looking for a strong strain. Guaranteed to be one of the most popular cannabis strains in Las Vegas for a long time to come.
Shop Online for Jack Herer in Las Vegas
Chemdawg
Bred for potency and flavor, Chemdawg is most of all known for being aromatic. Its pungent smell will quickly overwhelm any enclosed space.  Coated in a liberal amount of terpenes, its scent is complimented furthermore by a healthy dusting of THC. While this might not be one for the beginners, its breeding makes it a great medicinal all-round.
Durban Poison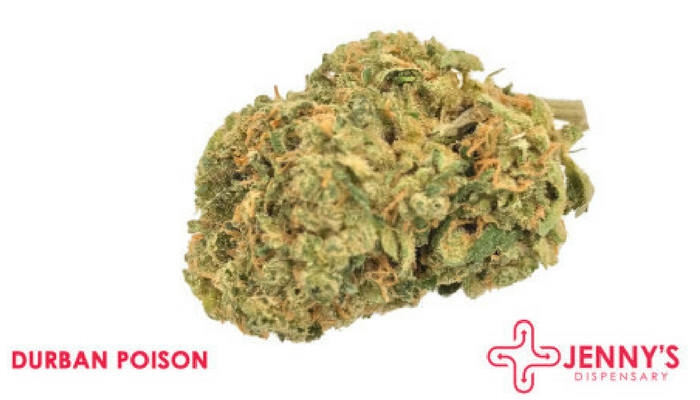 A rarity in modern times in that its lineage remains more or less unspoiled by cross-breeding. As a result, this Sativa strain really is pure Sativa.  Making this strain the number one choice for those looking for an uncomplicated experience.
Its intoxicating citrus aroma has become its signature calling card, while a lighter green color and famously long, orange hairs mean it's practically unmistakable. One of the most recognizable marijuana strains in both aesthetic and effect, Durban Poison consequently induces a deeply calming effect. A popular choice of medication for those suffering from ADHD, obsessive-compulsive disorders and anxiety.
Shop Online for Durban Poison in Las Vegas.
Green Crack
Supposedly given its unusual name by rapper Snoop Dogg, Green Crack is famed for an intense buzz effect that keeps users alert and motivated throughout the day.
This popular strain has a sweet, tropical flavor in addition to getting the creative juices flowing. Users often describe the strain's effects in great detail, therefore causing them to speak fast and with more attention to detail.
Furthermore, an Indica version of Green Crack is also gaining prevalence across Nevada. Though its bigger, Sativa-dominant, sister remains the more popular cannabis strain in Las Vegas.
Blueberry
In terms of flavor, Blueberry remains one of the authentic greats of cannabis cultivation. Few strains can compete, on taste alone, with this truly legendary Indica.
Blueberry's mellow and euphoric effect compliment, perfectly, the mouth-watering taste, delivering an experience as sumptuous as a real homemade blueberry pie.  Blueberry is a great night time strain because of its potency and effects.  Giving the user a fast track to relaxation
This combination of euphoria and drowsiness make it a great choice for insomnia, depression, pain relief and nausea. One of the most popular cannabis strains in Las Vegas and beyond.
Most Popular Cannabis Strains in Las Vegas
In conclusion, a brief analysis of some of the most popular cannabis strains in Las Vegas.  Order online or come by any of our locations. For additional info on these strains or any other strains on our menu, please do not hesitate to get in touch.
Comments
comments
Latest Entries